Is it just me, or does Friday actually come around faster each week? Don't get me wrong I LOVE Friday's! I want to jump for JOY when Friday's roll around; but it's Friday already!!! My favorite day of the week and it's time to share all of our fabulous participants creations. Fabulous Inky Friday allows us to show off those creations that all the Tiddly Inker's enjoy so much. So without further ado, let's get to our winners and features!
As always we have two five dollar gift certificates to award to two people who entered the challenge, followed the theme and of course used a Tiddly Ink image!
Congratulations to....
AND
Thanks ladies for your fabulous creations - please contact Christy for your prize!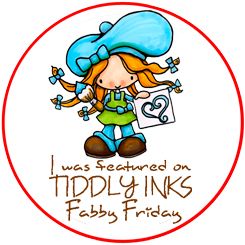 Now for our gorgeous features. Don't forget to grab your badge on the sidebar if you've been featured today!
GORGEOUS right?? We love all of our participants creations! Thank you for joining us each week.
If you haven't heard Christy is now selling her stamps in clear!!!
Check it out here
!